Tuning the Essex V6
Tuning the Essex V6
The Essex V6 is loved the world over and makes a great period upgrade for your '60s or '70s Ford - here's how to improve it!
History. --The Essex engine was arguably the first mass produced V6 in the world, and has since gone on to power, among others,TVR, Reliant Scimitar,Gilbern and AC cars. It wasn't even designed for a car, but for a van -the Transit. -- -----------Called the Essex simply because thats where it was made, it had to be a very versatile engine from the beginning. ------Over its history, it has powered everything Ford from Zodiacs to Capris. As they were made until 1988 for the Transit, you can still find a relatively young engine but be careful when buying. Find and build a good one and you'll discover the joys of torque. Forget about revs unless you're getting serious and concentrate on low down punch instead.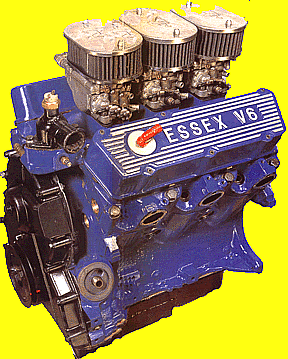 Clutch And Flywheel
The Essex really does like a lightened flywheel - allowing the engine to spin up quicker. It weighs a hefty 20-22 lb as standard, but a lightened one generally weighs in at 17 lb and a really serious one just 14 lb. fact fiends.
a bad thing, because the high peripheral speed of the bearing journals produces excessive heat.
Because the engines are so old, don't rely on the engine number for identification, as the blocks for the 2.5 and the 3-litre are the same and you only have to swap in a 3-litre crank and pistons during a rebuild - you could feasibly end up with 3-litre pistons and a 2.5-litre crank.
AH, THE GOOD OLD ESSEX V6:
a throaty rumble
-

and anything from a Granada to a Transit ambulance could

-

be coming around the corner. But did you know it
-

was originally designed to be both diesel and petrol? That's

-

why its got chambered pistons for the petrol engine - the

-

piston would have been flat for the diesel. It's also why it's

-

got large diameter crankshaft bearings, massive in

-

comparison to modern engines -
While you're in there, the standard clutch is 9.5 inches and weighs 17 lb. Car Clinic has an uprated 8.5 inch unit which weighs just 12 lb. Nice.