The Essex, bless its big old crank, suffers from big end overheating and subsequent wear. So, to cut this down as much as possible, Martin recommends grinding the crankshaft to the bottom end of the tolerance, which allows more clearance for oil.The minimum and maximum tolerances are 2.3761 to 2.3769 inches, so grind to the former.

Another trick with the crank is tear-dropping the oil drillings, this improves the lubrication flow on the crank.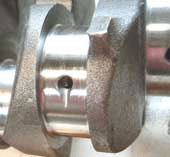 The oil is scooped in on the main bearing journals and drawn out of the big end journals by the venturi effect

.

In Martin's experience, he's found the replacement billet crankshafts to be 6-7 lb heavier than standard, and no better.
If anything, It's less reliable because billet steel is less granular than cast iron, so it's far more susceptible to torsional

oscillation. This means as the billet item is that much more springy, you can have different timing

at either end of the engine.